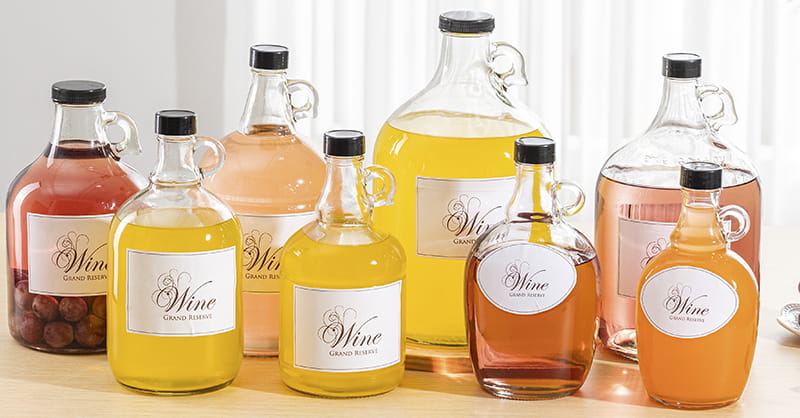 Are you tired of struggling to find reliable suppliers for 5L glass jugs?
Look no further! At Sunfect Packaging, we have your solution. As a leading vendor in the glass packaging industry, we take immense pride in providing top-quality 5L glass jugs at wholesale prices.
Larger glass containers, such as 5L jugs, have gained popularity due to their versatile uses, especially in the growler industry. However, An industry consensus is that larger glass containers tend to have more imperfections compared to regular-sized ones, leading to increased customer complaints. This is considered a drawback of such products. But don't worry - we've got you covered!
Our Commitment to Uncompromising Quality:



To tackle this issue head-on, we have implemented a groundbreaking solution. Our quality inspectors work around the clock, closely monitoring the production line to ensure top-notch quality.

Before shipping, each 5L glass jug undergoes a comprehensive
100% inspection - no random sampling here!

Our commitment to zero compromises sets us apart in the glass packaging wholesale industry. By diligently controlling the quality, we strive to minimize any potential complaints from our valued customers, aiming for near-zero levels. Rest assured, our dedication to 100% inspection is a rare and unmatched practice in the wholesale glass packaging sector.
Zero Compromise, Zero Complaints:
At Sunfect Packaging, we believe that excellence is in the details. That's why before any shipment, we conduct a comprehensive 100% inspection to guarantee the highest standard of each 5L glass jug. Our zero-compromise approach ensures that you receive the best product possible.
Unmatched Transparency:
Transparency is the cornerstone of our business. We understand that in the wholesale industry, reliability is everything. That's why we maintain complete transparency throughout the production process, allowing you to be informed every step of the way.
A Versatile Solution:
Our 5L glass jugs are not limited to just one industry. They are perfect for growler enthusiasts, beverage storage, and many other applications. The versatility of these jugs opens up endless opportunities for your business.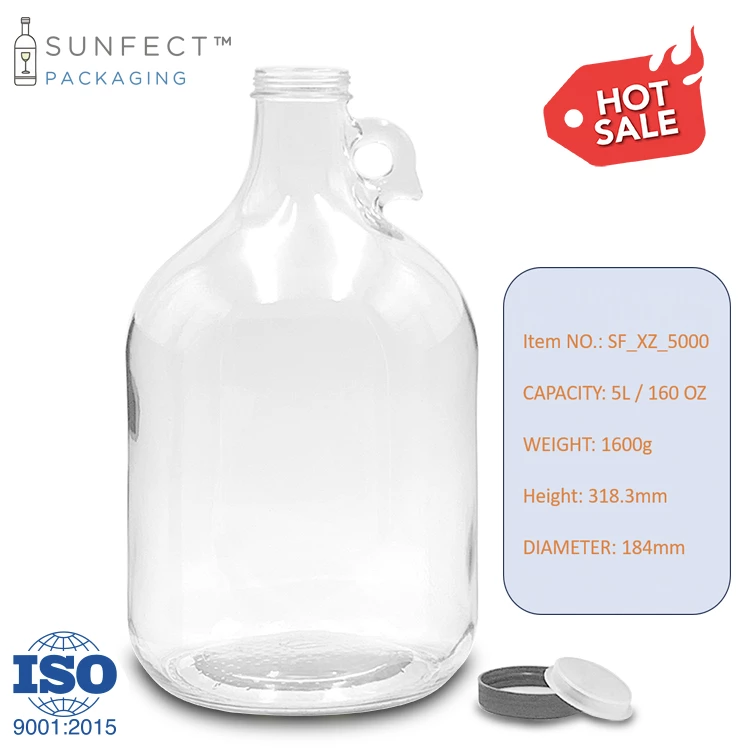 Benefits of Choosing Sunfect Packaging:
Competitive Wholesale Prices:
We offer highly competitive wholesale prices, allowing you to maximize your profit margins.
Customization:
Need a personalized touch? We offer customizable options to match your unique brand identity.
Reliable Supply:
With our streamlined production process, we ensure a stable and consistent supply of 5L glass jugs.
Efficient Customer Support:
Our dedicated support team is always ready to assist you with any queries or concerns.
Fast and Secure Delivery:
We prioritize timely delivery while ensuring your 5L glass jugs arrive safely and intact.
Visit our glass jug production line:
When it comes to 5L glass jug wholesale, Sunfect Packaging sets the industry standard. We are not just another vendor; we are your partner in success. Our unwavering commitment to top-notch quality, transparency, and customer satisfaction sets us apart from the rest.
Take the leap and experience the difference. Join the Sunfect Packaging family today and elevate your glass packaging game to new heights. Let our 5L glass jugs be the catalyst for your business growth.
Contact us now (through the button "Quick Quote" in the upper right corner) to learn more about our unbeatable wholesale prices and secure your supply of 5L glass jugs. The future of your glass packaging needs begins with Sunfect Packaging - where quality and trust meet innovation and excellence.